If you go down to the woods today, you're in for a big surprise… The all new Nets Kingdom at Sherwood Pines! A welcome addition to the Go Ape family which already includes two different tree top adventures and a forest Segway experience. I was lucky enough to take my 'tribe' to try out this exciting activity earlier this month...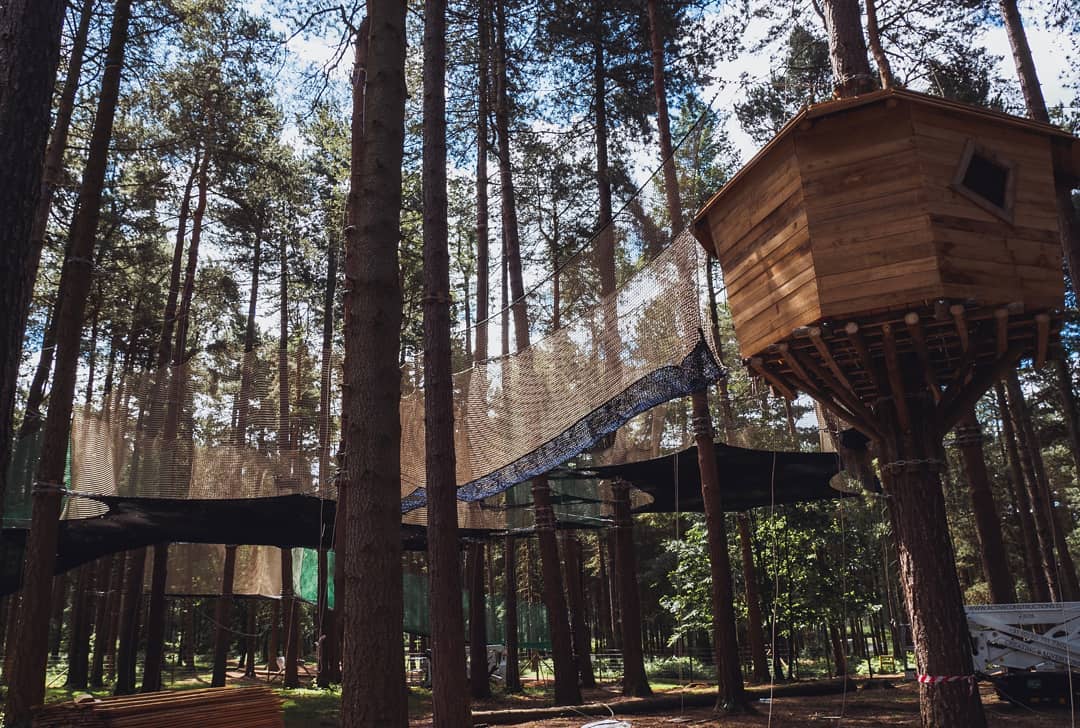 A 30 minute drive north from the hustle and bustle of Nottingham city centre lies the Forestry Commission's 3000 acre green space, Sherwood Pines. Once you have navigated the winding roads and parked up, it's a short stroll down past the visitor centre to the new 'netted adventure playground', only the second of its kind in the UK. We are greeted by friendly staff who give us our wristbands and usher us into the fenced off area where, sat on logs, we are given a safety briefing by one of the enthusiastic rangers. Once completed we are set free to explore the 2000 square meter adventure area where we can expect to 'bounce in the clouds'.
In my seven years as a parent I have visited many a park and soft play centre but Nets Kingdom is a concept I have not come across before; huge nets are suspended high in the sky using the existing trees as support. The course includes large 'bouncy' areas – one with enormous orange inflatable balls, a tree house, connecting bridges, and two slides that bring you back down to the forest floor so that you can do it all over again! None of the areas require the safety harness you need for the sister attraction 'Go Ape', all of the areas are entirely enclosed so there's no risk of falling the 8 metres down to the floor. The kids were advised to use the separate netted area before attempting the full course so that they could get a feel for it, this area also doubles up as a place where younger guests can play freely without the risk of being mowed down by boisterous tweens.



Rangers were on hand at all times should anyone need assistance or just someone to chase them around a bit! Of course adults are also encouraged to try out the course; I certainly needed to take more than one breather during the two hour session. Below the course there are plenty of picnic benches to relax on whilst the kids explore and the ticket desk doubles up as a small café serving a range of hot and cold drinks and snacks. The entire 'Kingdom' is enclosed and secure so there's no need to worry about kids wandering off into the forest unsupervised either.
Our tribe thoroughly enjoyed their first experience of Nets Kingdom and we hadn't even made it back to the car before they were asking when we would be returning. We found it to be a wonderful alternative to the usual soft play and it's a brilliant way of introducing your family to nature and getting some much needed lung-fulls of fresh air at the same time. Sherwood Pines is a fabulous family attraction and has become a destination well worth travelling to. I'm sure Nets will prove popular with adventurers young and old for many years to come.
---
Nets Kingdom is based at Go Ape Sherwood Pines in North Nottinghamshire. For more information, please click here.
Prices 2 hour session
Adults: £15 | Children aged 5 - 15: £15 | Under 5s: £10
Minimum age 1 year
Parking at Sherwood pines
Hourly £2 | All day £6
---
This blog was written by Verity Mussen, assistant at Nottingham Tourism Centre
Related
0 Comments