Counting down the seconds until this year's beach holiday? Perhaps you've already been and come back, with a glowing tan, sand between your toes and a sulky expression on your face as you sit in the office looking up hotel deals for summer 2020.
But don't despair, you can get all those summery, seaside vibes right here in Nottingham's Old Market Square. That's right, the Nottingham Beach is back, and it's bigger and beachier than ever. Along with the buckets of sand, a paddling pool for splashing around in and other family-friendly attractions, this year there's a brand-new and altogether more grown-up and grand experience on offer. The Playa Day Club & Restaurant is described as a luxury beach club and it's set to be your one-stop-shop summer destination.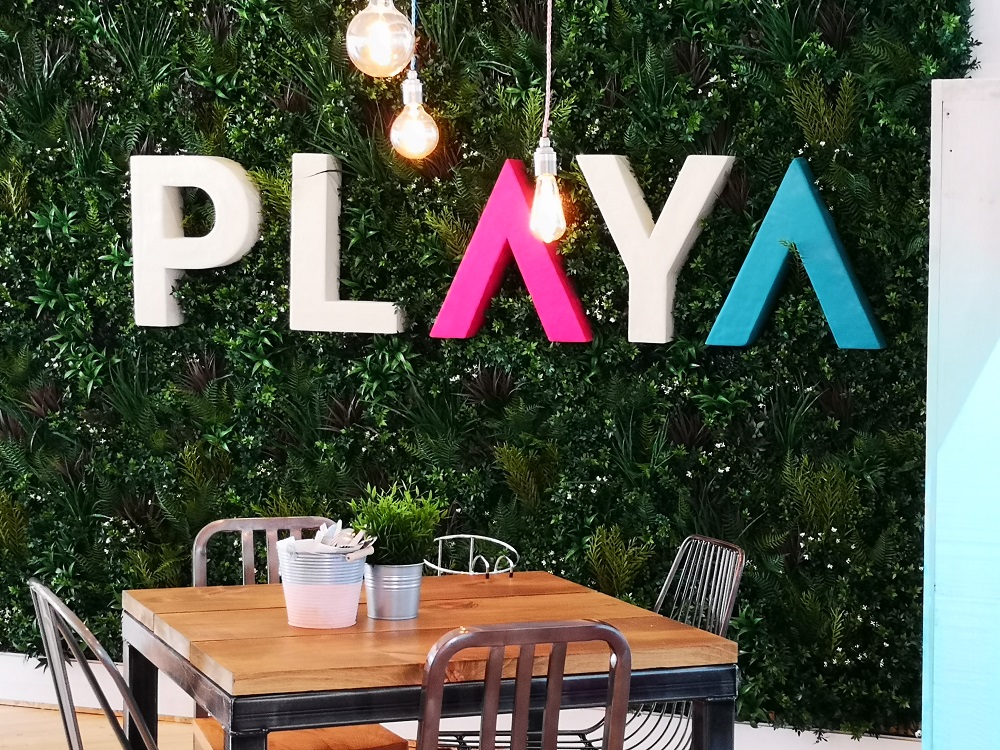 Excitement had been bubbling about this for quite some time. Visit Nottinghamshire had heard whispers of a famous chef in attendance and rumours of the rather mysterious sounding "pool pods", so when it finally arrived in the city, we gleefully donned our shorts, sandals and sunglasses, and skipped off to go and see it.
Drawing inspiration from the luxury beach clubs of sumptuous seaside resorts, as we walk past the red velvet rope it's immediately clear that you could easily spend a whole day here relaxing, or party the night away within the summer pop-up.
Our eyes are immediately caught by the deluxe pool pods – a large but shallow pool, which, unbelievably, has tables inside. The hexagonal booths, which sit like colourful islands in the water, are accessed via a wooden plank (those wearing high heels should probably exercise caution) or simply by stepping into the pool if you're not afraid to get your ankles wet (and dipping your toes is surely part of the fun). The popular pods seat up to eight people, and if you want to make sure you get the best seats in the house, they are available to book for five-hour day sittings or seven-hour evening sessions. The £100 fee will be transferred across to a bar and restaurant tab to be redeemed during your visit.
The Beach Club's well-stocked bar has plenty of tempting tipples on offer, from draught beer to a selection of fine wines and classic cocktails, like a summery Strawberry Daiquiri or zingy Mojito. Living up to their promise of luxury, you can even splash out with friends on a bottle of Veuve Clicquot champagne or a magnum of premium spirits to share with your party.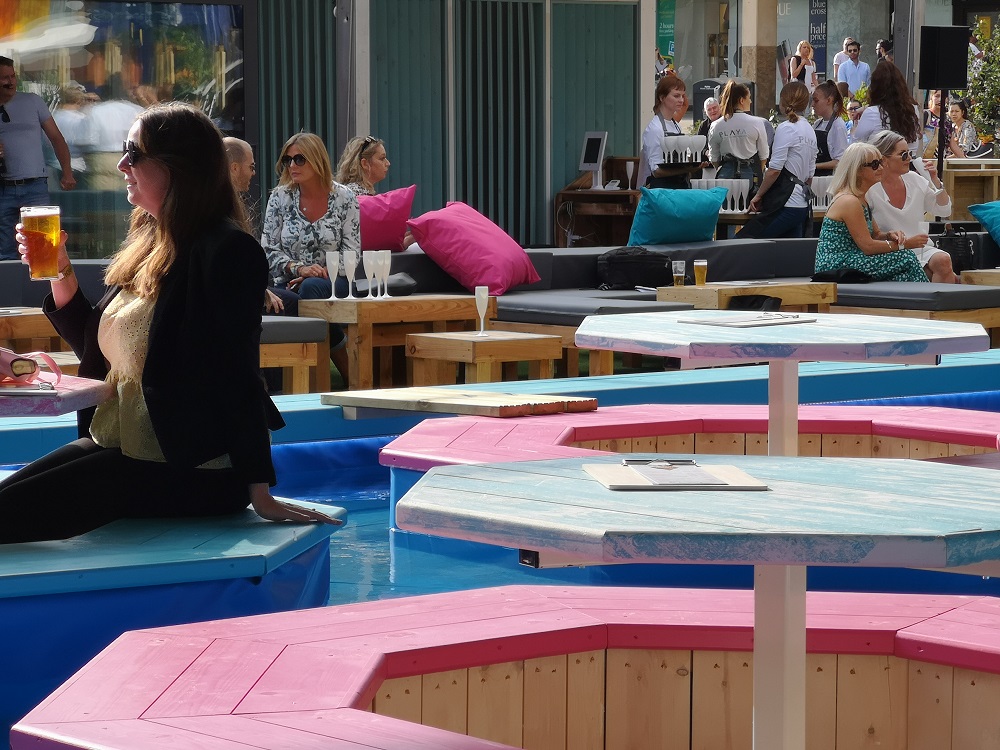 There's something about sitting by water – whether it's the sea or a pool, that somehow gives you that relaxed holiday vibe, and the Playa Day Beach Club is no different. It's all we can do not to dive straight in. Surrounding the pool are rows of cushioned outdoor seating for those wishing to enjoy an alfresco drink, alongside a row of day beds, perfecting the Beach Club look. The comfy days beds are also available to book in advance for groups of up to six, and are just the place to spend a lazy afternoon lounging around, soaking up the sun with a summery cocktail in hand. Ingeniously, the roof and sides of the Beach Club can be opened to soak up the sun on long, lazy days and warm evenings or covered over to protect from the elements, perfect for whatever weather the Great British summer brings.
After a wander round to see the sights, our attention turns to what is arguably one of the biggest attractions of the luxury city centre pop-up – the amazing food. If you're looking for tacky fast food you'll be sorely disappointed in the chic indoor dining area, decorated with tropical-style plants and flamingos. The culinary delights have been crafted by none other than Nottingham's very own MasterChef: The Professionals winner and former Restaurant Sat Bains sous chef, Laurence Henry.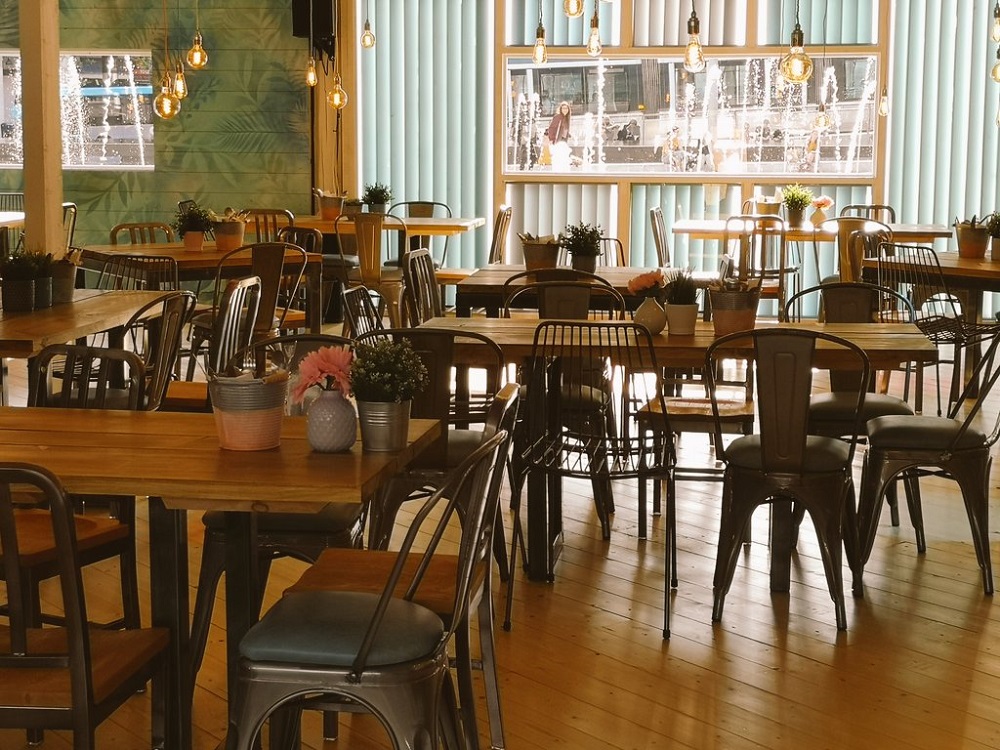 Aiming to create a more relaxed eating experience for people to enjoy together, the menu is less traditional fine dining and more tapas style dishes made with flair and creativity, which can be enjoyed all day long. The snacks menu has a variety of light bites (which can also be enjoyed by the pool) from classic olives to calamari tempura and smoked ham croquettes. The hot and cold tapas dishes offer a variety of delectable sounding seafood choices, from Cornish crab tacos to seared Yellowfin Tuna, with plenty of meaty options and a few veggie dishes too. You can also indulge your sweet tooth with classics such as strawberries and cream or more adventurous desserts such as pine nut panna cotta with watermelon and basil. A set menu offering a choice of snack, main, side and dessert is also available Sunday - Friday, from 12pm onwards. Families are welcome during the day, but under 18s must vacate by 5pm.
With an extensive programme of entertainment all summer long, from DJs to live bands to dancers, and ACES Nottingham bringing the party every Saturday evening with world-class DJs by night, the atmosphere turns from chilled-out and classy to all out Ibiza-style shindig.

Summer holidays are always over too quickly, and it often feels like we've barely stepped off the plane before we're dragging our sad, sunburnt selves back through the departure lounge. So, if you want to relive treasured holiday memories or top-up on tropical summer vibes, just grab your pals and head to Old Market Square. You'll be sipping cocktails and dipping your toes in the water in no time.
---
Please note: Entry to the Playa Day Club & Restaurant is free. The venue operates a smart / casual dress code, but guests are invited to 'dress to impress'. Under 18s are welcome in the restaurant during the day but must vacate by 5pm.
This blog was written by Sophie Milne, Communications Executive and Claire Jones, Marketing Assistant at Visit Nottinghamshire.
Related
1 Comments