Ecotourism can be incorporated into any UK staycation or weekend break easily, and often allows you to save money, experience something unique and learn something new.
What is Ecotourism and why is it important?
Ecotourism is a fantastic way of exploring Nottinghamshire while being respectful of the environment. We welcome you to learn all about our green City, which is on track to becoming carbon neutral by 2028, and to visit some amazing attractions and venues which embody these values.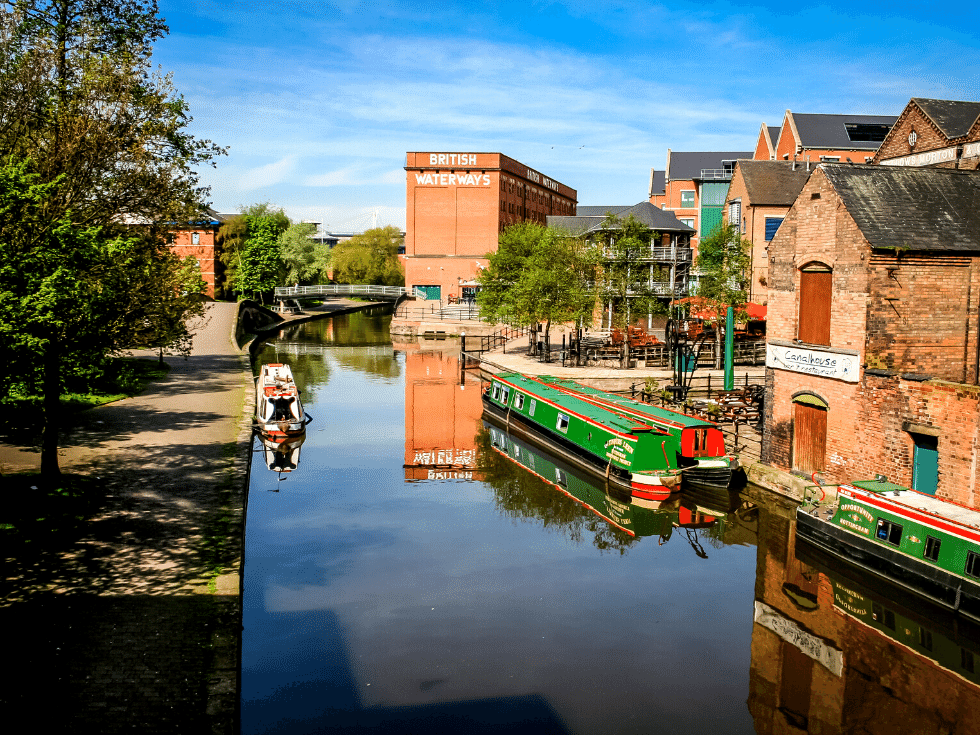 Top 5 ways to get involved in Ecotourism:
1. Accommodation
When considering where to stay, why not try an eco-friendly hotel like the Orchard Hotel, or why not try a hostel? You can also enjoy a cosy stay in a market town cottage like Lavender Cottage in Southwell, a B&B getaway or a camping trip in Nottinghamshire to minimise your carbon footprint.
For a camping trip, we recommend Waleswood Caravan and Camping Park for stunning views towards the North of Nottinghamshire and the Peak District, or why not pitch up in Sherwood Forest? Visit Sherwood Pines Camping in the Forest Site for more information.
2. Plan a low-carbon day of activities
You will find a whole host of fun things to do in Nottingham that fits into a low-carbon or environmentally friendly visit. Why not explore the retro, vintage and second-hand clothes shops around Hockley? These shops aim to combat fast-fashion, and you may even find a new piece for your wardrobe!
Nottingham Contemporary is a modern art gallery in the City Centre which often displays thought-provoking exhibitions from artists contemplating themes such as climate change. It is free to enter and well worth a visit – it is recognisable by the concrete lace pattern integrated within its concrete façade.
One of our top recommendations for a low-carbon day is to explore Nottingham by foot! We have some free walking trails available to download, or pick up a copy at the Nottingham Tourism and Travel Centre. These free trails allow you to explore the City on a self-led walk, or why not book onto a guided walking tour by an expert?
We have some fun and unique guided tours available, including a comedy tour and a town tour with Robin Hood himself! A local beauty spot is also an easy low-carbon day where you can see amazing natural or historic attractions.
3. Support eco-friendly attractions
Nottinghamshire has no shortage of these beauty spots which can also double-up as attractions that support the environment, like Wollaton Hall and Deer Park and Natural History Museum, each working hard on conservation projects.
Sherwood Forest is a world-famous heritage site working on conservation and education alongside entertaining countless tourists each year. Follow in the footsteps of Robin Hood and learn about the history of this amazing forest, while supporting their environmental work.
If you love learning about the natural world, Creswell Crags is another unmissable example. Dating back 10,000 to 50,000 years, it is home to Britain's only known Ice Age cave art, a peaceful lake and a limestone gorge dotted with caves. You can learn all about their conservation and archaeological discoveries on one of their tours or exhibitions.
You could also stop by the National Ice Centre or the Motorpoint Arena Nottingham for an afternoon of ice-skating in the footsteps of Torvill & Dean, or catch a show in one of the most environmentally friendly areas in the UK!
4. Eat vegan, vegetarian, local or sustainable produce
You're certain to build up an appetite while exploring the area, so why not take the chance to try something a little different?
Eating a low-meat or meat-free diet is a healthy, environmentally friendly and oftentimes a penny-saving habit to get into! So, when deciding where to get a spot to eat, try some vegetarian or vegan swaps in one of Nottinghamshire's amazing restaurants. Most of our amazing eateries provide delicious meat and dairy-free alternatives – many including some sweet treats and local favourites! You may even be able to catch Sneinton's Vegan Market, running twice-a-month in Nottingham City Centre.
Such a healthy meal will often save you some pennies and fuel you up ready to explore the next spot! Of course, a nice picnic also goes down well at a beauty spot or natural attraction.
Some of our top recommendations include: Annie's Burger Shack, Broadway, Las Iguanas or Zaap Thai Street Food, or grab a vegan snack at Delilah Fine Foods, Doughnotts or Josephine's Tea Room and Cafe.
5. Mode of transport
Many attractions in Nottingham are located in the City Centre, meaning you can walk between various attractions and things to do with ease. But when exploring further afield, you may need to rely on different transport options.
Nottinghamshire has some brilliant transport links. Nottingham's award winning trams are one of the main transport systems in the city and run with electricity, and help to reduce car usage and emissions. Nottingham City Transport also operate 150 biogas busses (39% of their fleet). This makes it one of the largest fleets of bio-gas double deck buses in the world.
You can now zip around the City Centre on more than 700 WIND LINK electric scooters, which are available for both short-term and long-term hire in Nottingham, as part of a Government-backed trial.
Nottinghamshire also has some fantastic connections by train, meaning it has never been easier to have an eco-friendly UK staycation from the likes of London, York or Lincoln.
Nottingham City Centre has 130 public electric vehicle charging points, for your convenience. A whopping 81 of these spaces are available in the new Broadmarsh Car Park, the most for a single site in the UK so far.
---
Our Expert Recommendation
We asked Simon, our amazing Manager at the Nottingham Tourism and Travel Centre and expert in recommending activities, to share his top ecotourism tip for visitors. He said: 'I recommend exploring Nottingham on one of the 700 electric scooters that you can hire for just 12p a minute - a great way to see the city. '
For more local and expert reccomendations, visit the Nottingham Tourism and Travel Centre in the heart of Nottingham City Centre and talk to our friendly staff. You can also pick up some walking trails and tour advice here.
---

Staying in a local B&B or quiet retreat can support the local community while prioitising a low-carbon accomodation option. We spoke to Rebecca from Southwell Holiday Cottage, also known as Lavender Cottage, about their experience and how they can also offer a more personalised touch to your stay. She said:
"Having had a long career within the airline industry, I've always loved travelling and meeting people from different cultures and backgrounds. I'm still enjoying meeting people but now they come to me!
This year we're hosting more international travellers than ever before we leave presents in personalised bags on the beds of every child who stays with us because we know how exciting it is to discover someone's left a gift!
The tourism industry felt an almighty hit during the pandemic but from now in the only way is up. Visitors want a great experience rather than just a holiday home or hotel room - I think we can provide both."
---
This blog was written by Katherine Taylor, Marketing Executive at Visit Nottinghamshire.
Related
0 Comments